Solutions Overview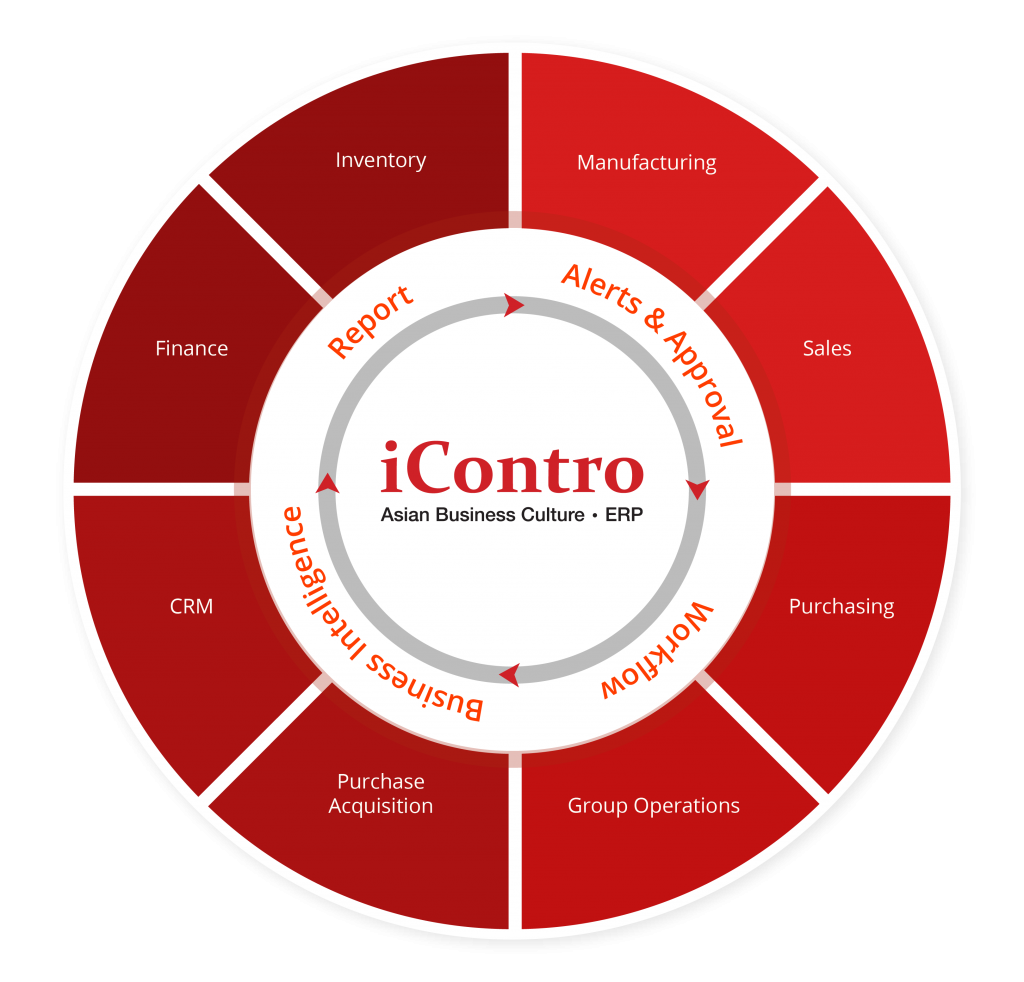 iContro G5 ERP System a 100% iContro owned solution & product, is a product of 20+ Years of Research & Development.
iContro G5 ERP System consist of 30 over main module including the below :
1. Financial
General Ledger
Account Receivable
Credit Note
Budgeting & Forecasting
Project Accounting
Account Payable
Cash Book
Debit Note
Enterprise Fixed Asset Management
2. Distribution
Inventory System

Multi-Level Warehouses & Locations Stock Transfer
Inter-Company Stock Tracking
Physical Stock Check & Stock Replenishment
Costing & Quality Control
Job Cost

Sales

Quotation & Sales Order
Billing & Sales Analysis
Sales Representative
Scheduling & Shipping
Price Book

Purchasing

Purchase Requisition
Contract Management
Accrual Management
Multi-Level Approval Management
Purchase Orders
3. Group Operations
Group Master Data Maintenance
Group Sales Operations
Group Operation Reporting
Group Stock Transfer including Automated Billing
Group Purchase Operations
Group Financial Management
4. Manufacturing
Discreet and Process Based Manufacturing
Costing
Forecasting & Planning
Manufacturing Resource Planning
Manufacturing Outsourcing
BOM and Formula Management
Routing Control
Shop Floor Management
Quality Control
5. Customer Relationship Management (CRM)
Dashboard
Leads Management
Reports
Campaign /Marketing
Sales Quotation
6. Business Intelligence (BI)
Sales Analysis
Sales Quotation Report
Marketing and Campaign Analysis
Business Report Analysis
7. Legal and Service Management
Projected Profitability Statistics
Proactive Management.
Accurate Reporting
Work-in-progress to Forecasts
8. Weighbridge Operations Management
Analytic Reporting
Dispatch Planning and Forecasting
Cartage Pricing by Location to Destination
Consent Management Controls and Reporting
Costing and Stock Pricing by Location to Destination
9. Machine Integration Management
Streamics System
Production Quality System
Inter-Company Sales and Purchasing Automation Plug-ins System
10. Project Costing Management
Budgeting & Forecasting
Change Management
Multi-Currency Management
Actual Expenditures
Contract Management
Reporting Management
iContro is proud that we are among the first and only Full Fledged ERP to be TUV Certified from Germany.
iContro has also obtained MSC with Pioneership Status in Malaysia. iContro is also currently being in the process of Evaluation by Infocomm Development Authority of Singapore (IDA) to be Accredited.
iContro has very vast client based in Malaysia, Indonesia and Singapore which includes Multinational, Government Link Companies and Public Listed Companies. We have secure and maintaining close to 300 organizations, mainly in Singapore and Malaysia.
iContro has very steady track record of replacing the ERP systems used by clients mainly our biggest competitor like Microsoft NAV & Dynamics AX , ROSS System and SAP while this competitors have not replaced a single iContro ERP System in the market. With the track record, we are very confident our system if not better, we are equivalently strong competitor.
We hope the brief information on our iContro Software and Solution, will give a glimpse of idea on our organization and credibility.
We hope to provide more detailed information during our presentation and demo.