ERP Beyond Cost Savings
iContro ERP G5: A Smarter Business Solution
It is a customized and comprehensive Business Solution System that handles the majority of an enterprise's information systems requirements.
It provides a software architecture that facilitates the flow of information among all functions within an enterprise.
The aim of commencing on an iContro ERP G5 System implementation are to:
Coordinate business objectives with technology solutions
Enhancing customer confidence and partners commitment
Achieve better organizations resource and asset usage.
Achieve transparency and availability of data across functions
Obtain right Information at right time for effective decision-making.
Achieve efficiency in organizational reporting
Ensure data security and data capability.
It also facilitates information flow between all business functions and make up the system to share data across various departments. The fundamental advantage is that its integrated business processes save time & expenses. It help management take decisions faster and accurately.
Our all iContro ERP G5 modules can be customized as per your demand and requirement so that you will be getting what exactly you are looking for and invest only on what you need. Imagine being able to grow your business by focusing only on important decision-making processes and finest solutions to make impact where it counts most.
iContro ERP G5 (M90- Sixth Generation) vs Other ERP System
iContro G5 ERP delivers two key market & technology differentiators as below;
Being a pioneer that focuses on Asian Best Business Practices, which is proven & gaining recognition especially with the current dynamism of Asian economics in the face of western economic meltdown. Our technology is unique as most ERP are western-styled oriented since traditionally being dominated by foreign ERP players.
We believe being in hugely complex technology sector like the ERP will result in less competition. On average an ERP requires 10 to 20 years of consistent R&D to prevail. Therefore there are not many players.
Storing all of a company's data in a single, relational database makes it possible to write queries and generate reports that give business leaders a sense of how the company is doing and where they can make business process improvements to save money and increase profits. A single database makes a complete set of data available to everyone for an all-inclusive view of a company's performance.
iContro ERP G5 software is used by companies in different industries. However, manufacturing companies are particularly well-suited to ERP systems because the various pieces of the order fulfillment process are connected, making it easier to track orders and coordinate manufacturing, warehouse and shipping functions, especially among different locations.
iContro ERP G5: An Effective Operational Costs
Operational Costs strategies from iContro Software (G5) are effective principles or methods for increasing operations efficiency. Operational Costs strategies can reduce operations costs while increasing productivity, allowing for strategic reallocation of resources.
These Operational Costs strategies from iContro Software provide additional benefits that wave throughout the business by eliminating waste, accelerating processes, and utilizing resources effectively.
This includes:
Consolidation Management Solution
Corporate Governance Solution
Direct Cost Savings Solution
Productivity (Wastage) Solution
Efficiency (In-direct Savings) Solution
Beyond Cost Saving Solution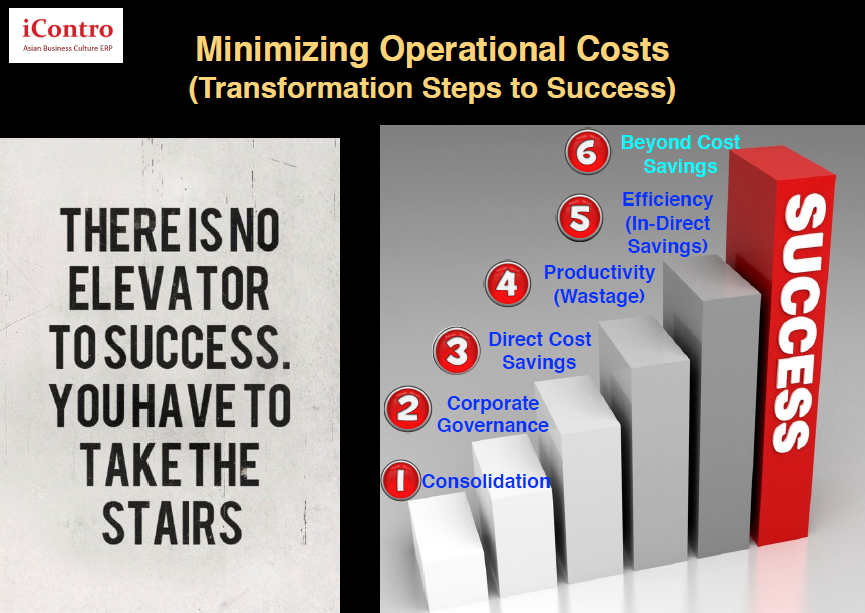 With Operational Cost in production, the organization can refocus budgeted resources on expanding operations or new market expansion.
This supports the strategic alignment of goals as well as innovation and increasing market share.
Business success relies on operational success, so iContro G5 helps organizations on this strategic approach to reducing operations costs.
iContro ERP G5 : Beyond Cost Savings Solution
An Asian Business Culture way of Enterprise Resource Planning (ERP) solution has been proven to cut costs in any size or type of business.
ERP G5 brings together business management solution in one system and eliminates the need for unrelated systems used by various departments within an organisation.
This means that companies can collect, store, manage and analyse data from numerous business transactions in one solution.
Companies are looking for ways to bind value from consolidation and automation that goes beyond cost savings to include accessing and structuring capability, scalability and flexibility that support the company's core business strategy.
In fact, more companies are outsourcing a strategy in their business planning.
It's a strategy that lets the company focus on improving client service, providing better products and an overall job well done, in a more cost-effective way.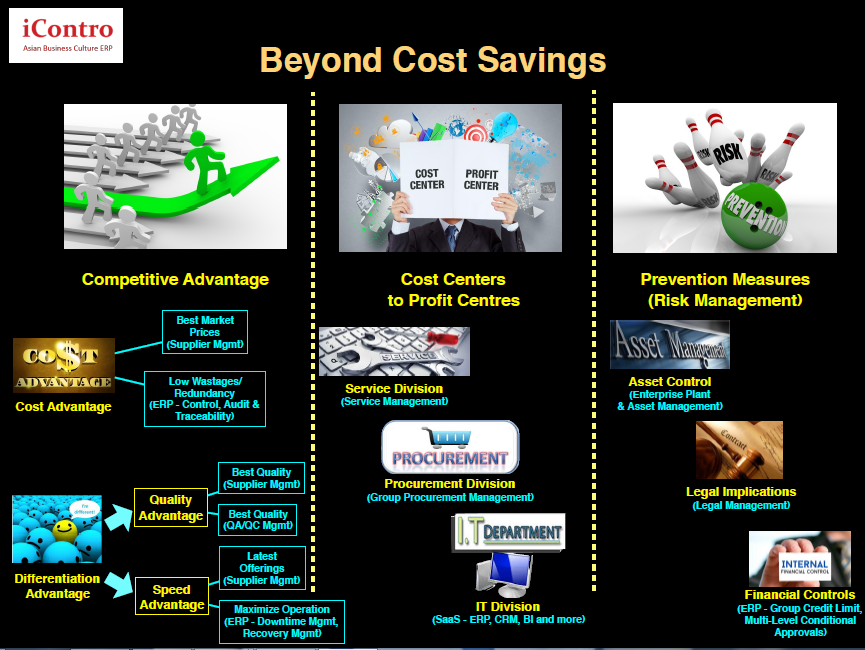 The uniqueness of Asian Business Culture- ERP G5 solution is that you don't have to wait to gain insight into real- time motion.
ERP G5 tracks business assets and obligations in real-time from a centralized database.
This means that an integrated solution shares data across different departments within a company and keeps key stakeholders updated with the progress of key business progressions.
Contact Us to find out more information about how iContro ERP (G5) cost reduction strategies can give your operation the competitive edge in the modern global marketplace.
Whether you are in Food, Plastic, Oil and Gas, Pharmaceutical, Paints, Chemicals, Rubber and all other industries ERP G5 has the tools to help you reduce operations costs.